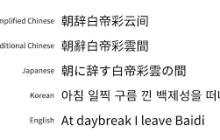 Multi-language Document Creator
Multi-language Document Creator is a tool used to create a multi-language paragraphs in one multi-lingual file by merging source files and target files. Such as:
Source_EN: We create added values for our customers with continuous innovation.
Targe_CN:我们通过持续创新为客户创造更大价值。
This tool is used in multi-language environments, such as Hotel, museum, travelling industry, airline etc.
This is a freeware available to our customers. If you are interested in the tool, do not hesitate to contact us.